Four of the best cake display fridges that will showcase your beautiful cakes
A cake display refrigerator is a must for bakeries or cafes that aim to display the variety of products to customers. If you are looking to start a new cake shop you must consider investing in a good quality cake and cupcake display fridge. Atlantic Equipment offers some of the best cake display fridges offering unique features such as rotating displays, LED lights with a stainless-steel finish available in multiple designs, shapes and sizes.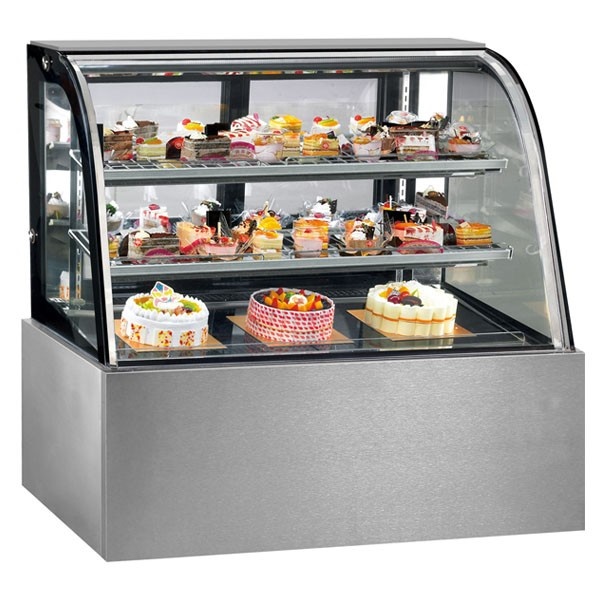 1. SSU180-2XB Black Trim Square Glass Cake Display
For a modern and striking cake and food display fridge, opt for his model which features adjustable shelves that allow you to arrange multiple display options as per your needs. Details of the features are provided below:
Digital temperature control and read-out
Glass doors include sliding rear glass on chilled display, triple glazed glass and heated front glass
Advanced stainless-steel design
State of the art Danfoss EBM-Pabst Fans & Aspera compressors
2. Roller Grill VT550 Cake Display
If you are space-challenged, getting a vertical cake display fridge is a good idea to maximize the attention for your confectioneries. The Roller Grill VT550 is a great idea for a small bakery or café since it is only 700 mm wide and deep. Here are some more features for your consideration:
5 glass shelves that offer plenty of space to showcase your beautiful cakes
Mobile turntable to provide a 360-degree view
Humidity cabinet included
Double vacuumed glass
3. Roller Grill RDC60T Refrigerated Chocolate Display
For an even more compact and mobile display, you can opt for the Roller Grill RDC60T refrigerated chocolate display for small cakes, chocolates or cupcakes. This model boasts of a panoramic roof lighting system that will make for a perfect presentation of your confectioneries. Additional features are
Portable model, fitted with four double wheels and two brake systems
Display is fitted with 5 turning plates
Perfect insulation with double-glazed walls
Electronic temperature control
4. Chilled Counter Top Food & Cake Display HTR100 – 100L
Lastly, if you are looking for a self-contained unit that does not require a well cut-out, this model is the one to invest in. Its main features include:
Adjustable shelving
Three display levels in a stainless steel and glass cabinet
Sliding Rear Doors
Refrigeration unit is fully self-contained in the base (No Well Cut-Out Is Required)
You must keep in mind that cake display refrigerators are very different from regular fridges because cakes must be stored at a specific temperature and humidity to retain freshness and taste. Therefore, select the right displays for your confectioneries so that you can sell your products better.